Bienvenidos (Welcome)
Nuestra Asociación tiene como objetivos:
Our Association's goals are:
Unificar, aglutinar y representar a las mujeres empresarias de México, en la búsqueda de objetivos y metas comunes tanto en lo económico, lo político y lo social.

      To Unify,to unite and represent businesswomen in Mexico, in the pursuit of common goals and objectives both in economically, politically and socially.

Luchar contra toda situación discriminatoria para la mujer empresaria. 
To wrestle any discriminatory situation for the businesswomen. 

Potenciar la participación activa de las mujeres en el desarrollo económico y en la búsqueda del bienestar social, mediante su plena integración e incorporación a la sociedad, fomentando la igualdad de oportunidades.
To promote the active participation of the women in the economic development and in the pursuit of social welfare by means of its total integration and incorporation to the society, fomenting the equality of opportunities.

Promover, desarrollar y fomentarla formación profesional de las mujeres empresarias, así como de los equipos humanos de sus empresas.
To promote, to develop and to foment the professional formation of the business women, as well as of the human equipment of its companies.

Estimular y apoyara las mujeres empresarias, facilitándole acceso a los recursos, formación, conocimientos y contactos necesarios para fomentar la cantidad, la calidad y la competitividad de las actividades empresariales de la mujer ayudándole a su éxito profesional.
To stimulate and to support to the businesswomen, facilitating the access to the resources, formation, knowledge and necessary contacts to foment the amount, the quality and competitiveness of the enterprise activities of the woman helping to professional success.

Crearsinergias entre empresas potenciando el espíritu de colaboración entre las asociadas.
To creates union between companies harnessing the spirit of collaboration between the associates

Consolidarse como centro de unión y comunicación, donde se den respuestas y alternativas al desarrollo económico y social, generando opinión ante temas relevantes que afecten al progreso de las mujeres como colectivo.
To consolidate like a center of union and communication, where to give answers and alternatives to the economic and social development, generating opinion before excellent subjects that they affect to the progress of the women like group.

Coordinar los esfuerzos parciales de las distintas organizaciones empresariales de mujeres del Estado, que tengan que ver con el avance y el progreso, proponiendo actividades y proyectos comunes que multipliquen la acción que día a día realizan desde sus finalidades y tareas específicas, superando el aislamiento y potenciando la solidaridad.
To coordinate the partial efforts of the different enterprise organizations of women of the State, whom they have to do with the advance and the progress, proposing activities and common projects that they multiply the battle that day to day their purposes and specific tasks, surpassing the isolation and harnessing solidarity.

Favorecer la creación de estructuras que amplíen el papel de las mujeres en el desarrollo, mediante la mejora de sus condiciones de vida, para que pueda participar plenamente en las actividades de producción y desarrollo comunitario, removiendo los obstáculos que dificulten su plena integración económica, política y social.
To favor the creation of structures that they extend the paper of the women in the development, by means of the improvement of its conditions of life, so that can participate totally in the activities of production and communitarian development, removing the impediments that make difficult their total economic, political and social integration.

Apoyar todas aquellas acciones y programas que desde el ámbito de las instituciones públicas o privadas colaboren a la plena incorporación de las mujeres en la sociedad.
To support all those actions and programs that from the scope of the public or deprived institutions they collaborate to the total incorporation of the women in the society.

Establecer, mantener y fomentar las relaciones con entidades mexicanas, extranjeras e internacionales.
To establish, to maintain and to foment working relations with mexicans, foreign and international organizations.

Noticias
AMMJE LOS CABOS firma convenio empresarial con NAWBO (Asociación de Mujeres Empresarias en EU) Sillcon Valley-California, EUA

En reunión de trabajo hoy la Ammje Capitulo Los Cabos se reunió con Eda Palacios candidata a Diputada Distrito XVI, Sergio Covarrubias candidato Diputado distrito VII y Arturo de la Rosa candidato a Presidente Municipal de los Cabos por parte del PAN para discutir su compromiso con las propuestas de la AMMJE Capítulo los Cabos

Propuestas de AMMJE los Cabos para las y los candidatos - Elecciones 2015
Propuestas de AMMJE los Cabos.pdf
Documento Adobe Acrobat [287.5 KB]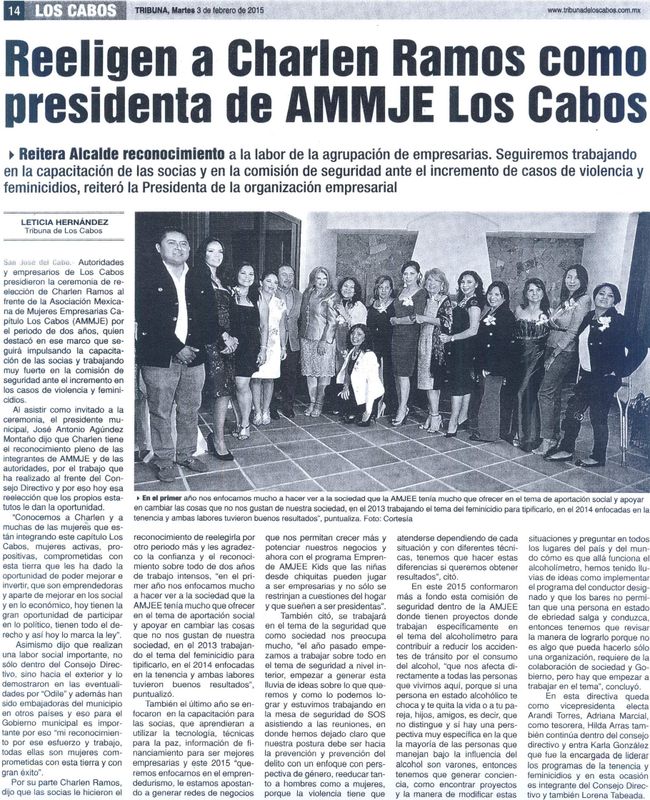 Leer más